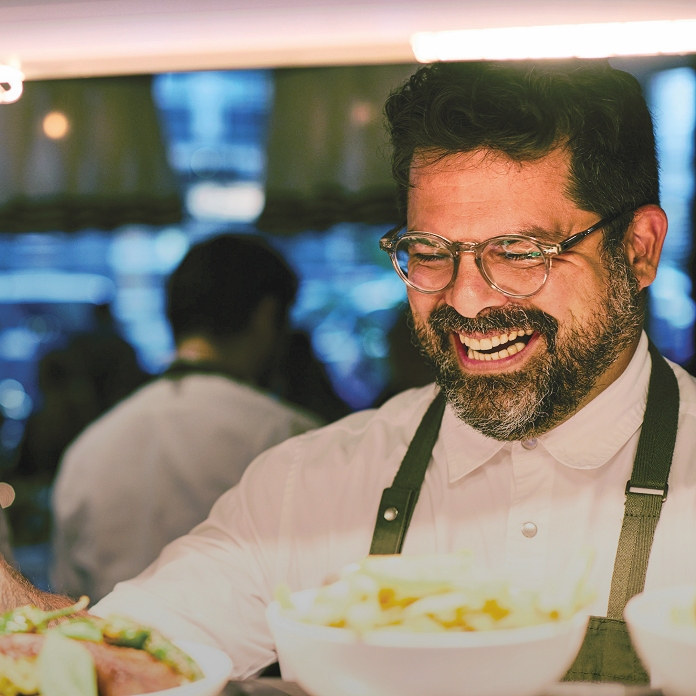 A Culinary Celebration
With Farmer's Daughters Executive Chef Alejandro Saravia
Farmer's Daughters Executive Chef Alejandro Saravia is widely known for sharing his passion for curating authentic food and his wealth of experience cooking in world-class kitchens across three continents. A project over four years in the making, Farmer's Daughters at 80 Collins is described as a three-story love letter to the Gippsland region. 
The menu itself is designed to showcase an array of Gippsland inspired culinary experiences, perfect for celebrating family moments with loved ones. From the Deli's Chef's Selection, to his must-try seasonal dish  – we spoke to Chef Saravia about the Farmer's Daughters experience, what he would recommend for that special someone, and why Gippsland's produce and people are at the heart of the Farmer's Daughters experience. 
What sets your menu apart?

What sets my menu at Farmer's Daughters apart is the constant communication between the chef team, the farmers and producers we work with from the Gippsland region. I love to say that our menu is a true farm to table experience as it's directly dictated by the seasons and the experience that the farmers and producers constantly share with us.  
What meal would you serve for someone special in your life?

Everyone who knows me, knows that I love a long lunch, and the perfect long lunch is with a sharing menu. I will start with oysters and a selection of cold seafood, then progressing with some simple but tasty vegetables cooked in different ways, herb salad and sauces.
Why is the region of Gippsland so special to you?

Gippsland represents almost 50% of Victoria, the diversity and richness of their land, lakes, rivers and coast is what takes me back to my home country of Peru. It's so refreshing to work with so many boutique producers that are so passionate in what they do and share that passion with others. 
What's your menu selection to bring a family together?

Always, sharing around a table. I like to cook on Sundays for my two boys, myself, a friend, a simple but tasty roast with vegetables, salads and lots of different salsas so people can make their own combinations. From Farmer's Daughters, you can't go past the Deli's Chef's Selection – at $75 per person, there's plenty of food and plenty of selection to suit all tastes. 
What is the wine of the moment?

When we talk about Gippsland, we are talking about Pinot noir and Chardonnay. Some of my favourites are Bill Downie, Patrick Sullivan, The Wine Farm, Dirty Three. 
Tell us your must-try seasonal special?

At Farmer's Daughters, we are loving working with rabbit, venison and we have experienced the best season for Gippsland black truffles so far. From our restaurant degustation, there is an optional special at the moment which is grilled rabbit, pink fir apple, mustard, leek chutney.
Enjoy Farmer's Daughters, with bookings available. 
www.farmersdaughters.com.au